On 26-27 August "Tumanyan International Storytelling Festival" was held within the framework of which our team presented the newly published "Getar: Memory of a River" research project as well as the third zine of the "ZINEadadar" series, entitled "Restless Suitcase".
Tigran Amiryan, and writer Aram Pachyan deliberated the significance of the "Getar: Memory of a River" project, shed light on the creative journey involved in producing the book, and discussed the prevailing concerns and essential motifs highlighted by this undertaking. Tigran Amiryan explored the complex aspects of the project's content and methodology, delved into the connection between the Getar River and its social memory, examined the interrelation of culture and the environment, and touched upon the realm of the river's hydropoetics. Aram Pachyan delved into the analysis of the cultural memory surrounding the Getar River, placing particular emphasis on the circumstances that led to the river's gradual fading from literature and its subsequent disappearance from the urban space. The presentation of the book was followed by a discussion, during which the attendees had the opportunity to ask their questions. The participants exhibited significant interest in understanding the reasons behind the absence of an ecological movement addressing river-related issues., as well as the cultural perspective on the river's importance.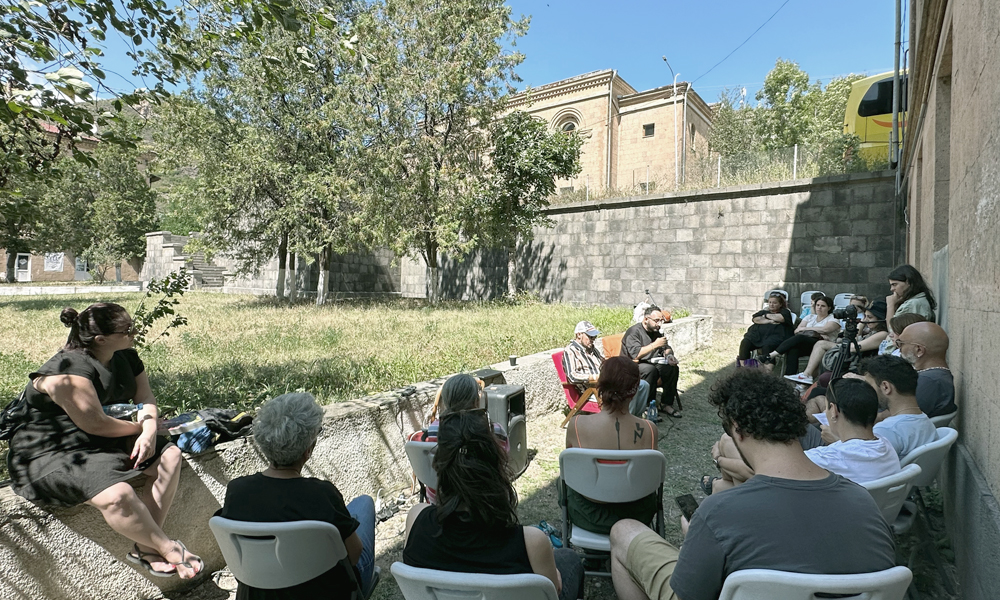 The third, "Restless Suitcase," zine was also presented to the audience during the Tumanyan International Storytelling Festival. This zine covers the topic of displacement within the context of wars and armed conflicts. Through the analytic articles authored by our experts, that abridge the stories of women displaced by wars and conflicts in various regional countries, the zine delicately navigates the sensitive topic of devotion to a cherished place and the shattering of deeply ingrained memories. Mariam Yeghiazaryan, the project manager at CSN Lab, commenced by providing a concise overview of the "ZINEadadar" project, outlining its constituent elements, methodology, and the thematic concerns that the project addresses. Subsequently, a comprehensive examination of the third zine ensued. Mariam Yeghiazaryan highlighted that "Restless Suitcase" studies the experiences of women living in various regions marked by war and conflict. These women have undergone the harsh affair of displacement, hailing from places such as Armenia and Artsakh, Ukraine, Georgia and Abkhazia, and Belarus.
After the interventions and discussion, the guests of the festival and the residents of Tumanyan community had the opportunity to get copies of "Getar: Memory of a River" as well as the three zines published within the framework of the "ZINEadadar" project and the accompanying thematic posters created by visual artists.