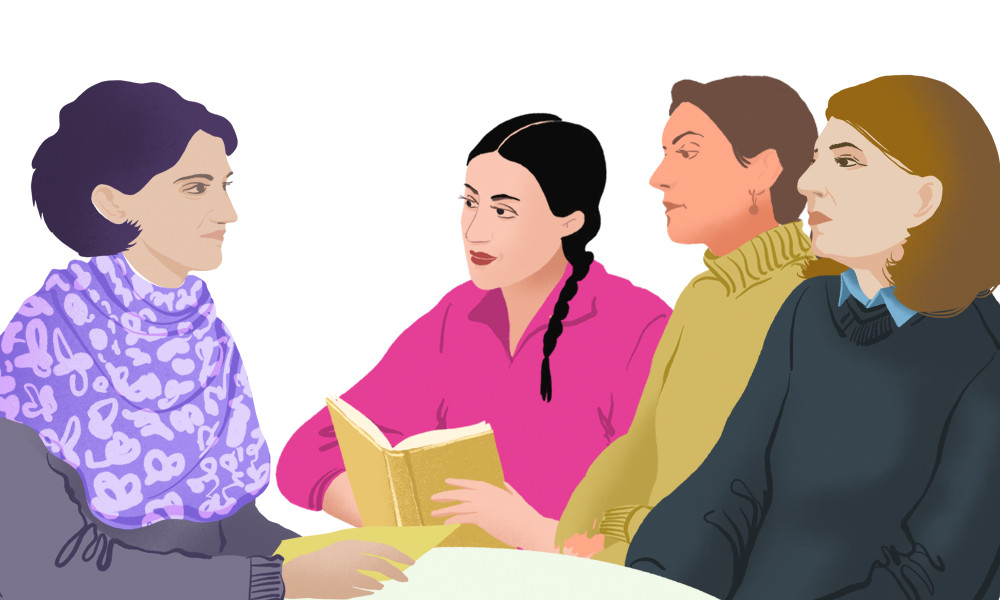 Women declare a truce!

Lusine Kharatyan - episode #1
In this episode Shushanna Tevanyan hosts cultural anthropologist and novelist Lusine Kharatyan. The conversation builds upon topics like the relationship between literature and conflict, the role of female writers and the issue of their appreciation in the Armenian reality, as well as the potential transformation of literature in the age of social media.
Lusine Kharatyan - episode #2
In this episode of the "Zineadadar" podcast, Shushanna Tevanyan delves deeper into the conversation with cultural anthropologist and novelist, Lusine Kharatyan. Together, they explore the world of memory politics and its metamorphosis amidst the tumultuous landscapes of war and post-war realities. The dialogue dissects the intricate factors that mold memory politics, unveiling thought-provoking insights and perspectives that will undoubtedly captivate the audience's imagination.
Zara Hovhannisyan
In the final episode of the second season of the "ZINEadadar'' podcast, Shushanna Tevanyan hosts Zara Hovhannisyan, the PR officer for the "Women's Support Center" and a human rights defender. This thought-provoking conversation focuses on the complex socio-political, physical, and psychological challenges women in Armenia are encountering in the aftermath of the intense 44-day war. Zara Hovhannisyan, an esteemed and experienced advocate for women's rights, discusses the harmful effects of post-
Gayane Hambardzumyan
In the penultimate episode of the second season of the "Zineadadar" podcast, Shushanna Tevanyan hosts Gayane Hambardzumyan, the head of "Women's Center. Shushi" NGO. Gayane delves into both her personal journey and the organisation's experience of displacement during the 44-day war. The dialogue extends to pivotal policy considerations, offering an exploration of government and civil society initiatives within the framework of the UN "Women, Peace, and Security" agenda.
Lilit Gizhlaryan
In the second episode of "ZINEադադար'' podcast Shushanna Tevanyan hosts facilitator of Armenian-Azerbaijani dialogue programs Lilit Gizhlaryan. The conversation revolves around the methods and complexities of dialogue processes, as well as their indispensability for conflicting parties. Shushanna and Lilit also discuss how dialogue programs influence state foreign policy-making and what the main challenges are when it comes to replacing war discourse with peace discourse.
Eviya Hovhannisyan
The guest of our first episode of "ZINEadadar" podcast is social anthropologist Eviya Hovhannisyan. With Shushanna Tevanyan they discuss changing social roles of women in war and conflict zones, as well as the challenges in realization of women's rights and their experiences as refugees and displaced persons in the post-war period. The first episode, furthermore, features a discussion on women's role and engagement in conflict resolution, and peace processes in general. Women declare a
Nazik Armenakyan
In this episode of "ZINEadadar" podcast Shushanna Tevanyan hosts photojournalist, founder of "4Plus" independent documentary photography centre Nazik Armenakyan. They discuss the particular features and challenges of telling about war and its consequences through photography. The conversation also sheds light on the methodology and anthropological aspects of making conceptual photo projects about conflict and related sensitive topics.